Happy Mother's Day to all of you wonderful moms out there! I swear, I don't know how some of you do it: blogging on a
much more
regular basis than me, teaching,
and
being a mom?! That is amazing!
I noticed on Facebook that Amber over at Adventures of a Third Grade Teacher is hosting her first ever linky!
Her blog is SO cute and I am super excited to be linking up! This linky is all about the good and bad of this past school year. Here's mine:
The Great
1. I felt much more confident about the content I taught this year. This was my second year teaching third grade, so I felt like the pacing was better this year and I just knew more of what I was teaching. Your first year in a new grade is always tough!
2. The Voyager Program I taught flowed much better this year. Last year, I didn't teach it the way it was supposed to be taught due to time constraints (math was taught whole group instead of small group). I have an associate teacher who is in my room during this time and we have stations set up. One station is me, one station is her, and the last station is our computer station. It worked really well.
3.
Helping my kids grow and develop throughout the year.
I'm not only talking about academics, but social/emotional as well. The most kids I've had all year is 11, and while that seems great, most of them are very needy and lack social skills. We've worked really hard this year on proper things to say, and what is definitely NOT okay to say.
4.
My classroom stayed clean!
Now, I'm not necessarily referring to
my
work area, but the classroom as a whole stayed clean. This is mainly due to
Find It, Fix It
. Oh yeah, this also definitely does NOT include their desks either...yuck!
The Not So Great
1. Writing. There is NO time in my day for formal writing instruction. This is mostly due to the Voyager program I teach. An hour and a half of each day is eaten up spent on this. I've already warned the current fourth grade teachers that my kiddos have basically received no formal writing instruction. The good news is that next year I won't be teaching the Voyager program so I will be freed up! We'll also be getting a new Basal and I think I'll be using that instead of solely leveled readers. Any Journeys fans out there?
2. Math instruction. Due to the Voyager program, I can only spend an hour on Math each day. The district wants us to spend an hour and a half. I just feel like my Math instruction is so rushed. It is whole group and it's difficult to differentiate for my kiddos. The good news is my associate teacher did an awesome job with them during VMath so they have really improved! Next year, I'd like to do Math centers.
3.
My desk/work area organization.
Like Amber, I planned to start off strong with the Clutter Free Classroom Project. See my posts
here
and
here
as proof. After that, I pretty much fell off the wagon. I get to work early (like 30-40 minutes before the kids come), so I really enjoy leaving as soon as I can at the end of the day. That meant, I was not tackling any of my clutter. No siree. No way. No how.
4.
Library Books.
We didn't have library as a special area
at all
this year. Our schedule was jam packed so that meant no trips to the library. My kids never checked out books at the library! In the past, they would switch up special areas halfway through the year so you could get the specials you currently didn't have (like Music, Art, and Library). Well...this year we didn't. Next year, if we don't end up having Library as a special area, I will make sure we go during an open media period so my kids can get their hands on some books!
5.
Graded Papers
. I had a great system of keeping them organized, but it was hard to find the time to send the papers home with the kiddos!
That's mine. I hope you head over and
link
up with Amber!
I also saw the other day, that three fabulous bloggers are hosting a Summer Bucket List Linky.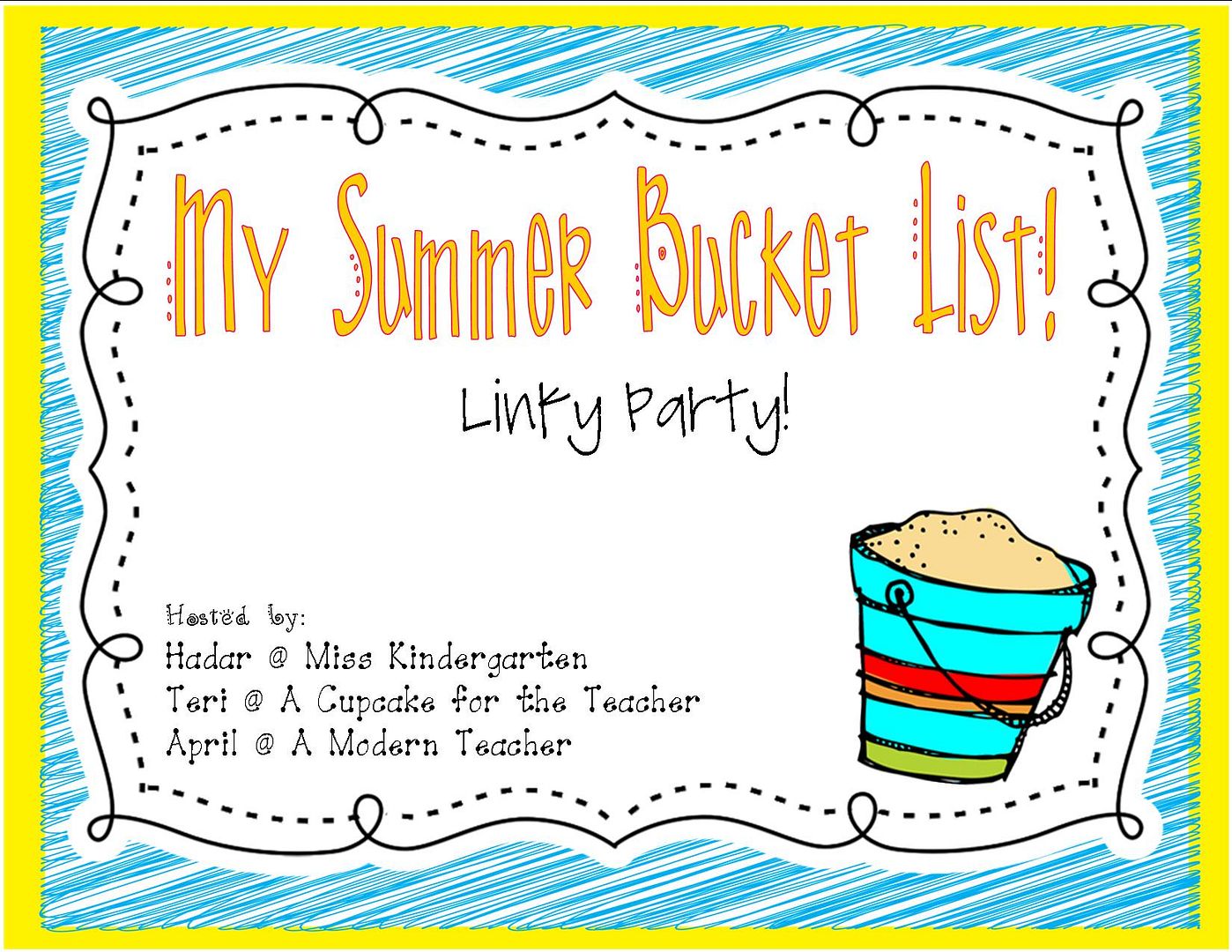 Here's what I'm planning for the summer:
1. I still have two classes to go to finish my Masters in Literacy Education. That will be consuming most of the month of June for me!
2. Organize and free up some space on my flash drive. I don't like seeing this:
Of course, this happened after the awesome TPT jackpot last weekend for Teacher Appreciation Week! I loaded up :)
3. Laminate, cut, and repeat. I have downloaded SO many great things. The summer is when I plan on tackling that.
4. Finish our college scrapbook, ahem, four years later. I'm not too far behind. I left off on senior year:
Oh yeah, it might be good to also complete our trip to NYC, which was also in 2007. I yi yi. I cringe thinking of all the work!
5. Do something with the THREE BOXES of wedding pictures we have!
6. Tackle this room. Like I said in a previous post, we're talking babies soon SO I'd really like to tackle this room.
Wanna peak at what's in those lovely trash bags?! R-A-N-D-O-M stuff like this:
Note from Matt (back in high school!), picture from me cheering as a kid, my college ID, my certificate from National Honor Society (high school!), and the cleaner outer for my recorder (from 4th grade!). Yeah. Tons of random
crap
memories.
7. I'd also like to update our photo albums (also not updated since I graduated back in 2008).
8. Seal the granite in our kitchen.
9. Clean our carpets (especially downstairs). They are straight up GROSS!
10. Take a technology course. I've already signed up for this!
Wow. That's a lot of plans. I really hope they do a follow up linky because I'm willing to bet only like 3 of these things on this list will be crossed off! Head on over and
link
up!
Only 14 more wake ups of work (13 for me since I'm taking the 25th off for a wedding). The year is definitely winding down. How many more days do you have?
Have a great week and hopefully I'll be back soon with a freebie :) Also, don't forget to check out the
Giveaway
over at Staci's blog! It ends tomorrow on her (and my) birthday! Okay, just had to say that again becauze I think it's so funny!