How was your Christmas? Mine was wonderful. The hubsters and I each went with each other to pick out our gifts, so there were really no surprises. UNTIL, I went to Palmetto Moon. I absolutely L-O-V-E this store. I went in there to pick up a t-shirt for his brother who was having surgery on his head Friday and the nice worker mentioned all Clemson (yuck) and Carolina jackets were buy one get one FREE! So, I had to pick up one for the hubsters and me. He was so surprised! The other things I got him were more work shirts, ties, and a new pair of shoes for only $23 from JCP.
He was super sweet this year and got me a sapphire ring and a necklace like this:
I can't wait to put them in my classroom when I get back! So creative and cute! I LOVE it! :)
I enjoyed going to our parent's houses and visiting with everyone. One of the highlights of the day, however, was finding my pen bag from high school & college. I've been wondering where this was for quite some time and I found it at my mom's house! I was literally jumping up and down squealing with delight. People may have wandered back to where I was to find out what the commotion was about.
Then, I decided to take my mad skills to my parents' piano. Now, keep in mind, I never actually took any sort of music lessons, aside from my recorder lessons in 4th grade. I found a Christmas Music Book and had my family play "Name That Tune!" How did I do this since I don't know the first thing about reading music, let alone transferring that to the piano? Well, someone wrote down the letter names for the notes and my sister put stickers on my parents piano YEARS ago so all I had to do was see the letter F and find the letter F on the piano. I know you're pretty jealous of that awesomeness. I couldn't stump them during "Name That Tune!" I'm thinking I'll try it again at Easter when they haven't been inundated with Christmas songs in a while :)
I of course went out shopping yesterday for 50% off all Christmas. I got lots of goodies! You can't beat 50% off, or 75% off (at Belk!).
1. Be more organized. I tend to just drop things off on the kitchen table as I walk in the door and we never see our kitchen table as a result. It's buried beneath all my junk I'm too lazy to put somewhere else.
3. Stop impulse buying. I've actually really improved on this lately as I'll make myself wait and if I still want it a few weeks later, then I know it's something that I'll need or definitely want.
4. Clean more regularly. When the hubsters and I first moved in 2 1/2 years ago, I was so consistent in my cleaning. The bathrooms got cleaned every week, our bedroom was cleaned (vacuumed & dusted) every other week, etc. I'v gotten slack, mainly due to teaching and grad classes. Well, and let's be honest, my laziness :)
1. Be more organized (are you seeing a trend here?!). I tend to stack stuff and just throw papers off my table to be hidden (AHH!). January 13 is a workday so that's what I plan to do. Okay, total side note...I always have such big hopes and dreams for teacher workdays and I feel like I never even scratch the surface of what I need to do...am I the only one that this happens to? Please tell me I'm not alone!
3. TRY not to get stressed out about data, the state tests, MAP testing, etc. Won't happen, but it's nice to dream!
1. Blog on a more consistent basis. I'm going to low ball it and say once a week, but hopefully more than that. It's just hard with teaching and grad classes.
2. Share more things that I make/that are going on in my classroom.
Those are my resolutions, what are yours?
Edited to add 11 in 11. I know you're not supposed to post twice in a day, so I'm taking a page right out of Kristin (Teeny Tiny herself) and updating this post so I can participate in the 11 in 11. Speaking of Kristin, that's who's linky this is! Well, her and Hadar!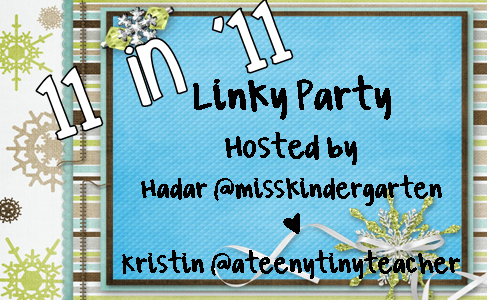 Here we go!
I loved the Help, but I also watched the all of the Steig Larson movies (in Swedish). I'm sorry, I can't just choose one!
I have actually been so consumed with teaching and grad school that I have missed some of my favorite shows this season (Modern Family, The Middle, & DH). I have become addicted to these though:
Hmm...I'm not very adventurous...I don't "try" a lot of new things. I guess it would have to be blogging (I promise I'm not copying Kristen's answer...they just happen to be the same!).
My necklace and ring from the hubby for Christmas! I love them and this chicka doesn't get jewelry often :)
Umm, I pin everything! I'd have to say it'd be one of these...they are both delicious!
Yeahhh, I don't really have one. Maybe next year I'll have one :)
Being a finalist for Teacher of the Year :) Oh, and of course, my perfect attendance from last school year.
3. Favorite Picture
Hmm...I guess it would have to be Alshon Jeffrey and me!
Going to the Steve Spurrier Ladies Clinic at USC. We got to go in the locker room, meet the coaches, meet the players, and even run out to 2001!